Charlie Dattolo
Comments

0
43pages on
this wiki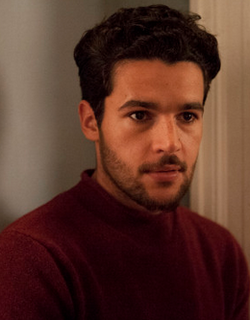 Charlie Dattolo is a character in Girls played by actor Christopher Abbott.
Bio
Charlie attended Oberlin College's Gallatic Same Sex Ball party where he met Marnie's at a party when they were sophomores. It's shown via flashback in the episode "Hard Being Easy that Marnie had a bad reaction to marijuana brownies, and Charlie was the only person who comforted her. They began dating since then. His best friend is Ray Ploshansky, who he occasionally does gigs with as a two-person band called Questionable Goods.
First Season
Charlie and Marnie have been together for four years, and he is perfectly happy in the relationship. In the episode "Hannah's Diary", Ray finds Hannah's writing journal while he and Charlie are building a coffee table in the girl's apartment. Charlie later reads some of the passages out loud during a Questionable Goods gig about how Marnie should break up with him because she feel's so smothered in the relationship. He breaks up with Marnie despite her claiming those aren't her true emotions, but later takes her back after she goes to his apartment for the first time and promises to not take him for granted. Almost immediately after having make-up sex though, Marnie then ends the relationship. In "Welcome to Bushwick a.k.a. The Crackcident", Charlie has already gotten a new girlfriend named Audrey. Who is shown to be the complete opposite of Marnie. He and Marnie run into each other at Jessa's surprise wedding in "She Did", but seem to be on much friendlier terms.
Second Season
Charlie and Audrey are still together, but she breaks up with him since he clearly still has feelings for Marnie. He creates an app that becomes very successful, and is given his own office space. After Marnie embarasses him at a company party, they fight and have sex in his office.
Quotes