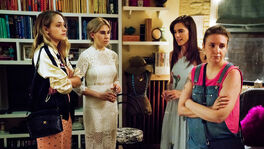 Goodbye Tour is the ninth episode of the sixth season of Girls. It was directed by Nisha Ganatra and written by Lena Dunham and Jenni Konner. The episode originally aired on April 9th, 2017.
Hannah interviews for a position at Bard College. She meets with a dynamic creative writing professor, Phaedra, who discovered Hannah's work online. Heading back to the city, Hannah receives a job offer.
Elijah doesn't understand why Hannah wants to leave New York. He tries his best to convince her to stay, but she's focused on finding a better environment for her baby.
In need of advice about her move, Hannah heads to Shoshanna's apartment only to find the other girls there celebrating Shosh's engagement; Hannah was intentionally left off the guest list. Marnie calls a group meeting in the bathroom, hoping to resolve their friendship issues. The conversation isn't very productive and ends in Shoshanna declaring she has moved on from her friendship with Hannah. Unable to avoid each other any longer, Jessa and Hannah tentatively make peace. In one final hurrah, the girls end the night dancing in the apartment.
Hannah officially leaves the city and moves into her new home upstate.
According to Dunham, this episode acts as a more traditional series finale while the actual series finale "Latching" served as an epilogue.
This episode marks the final episode to feature all four female leads together.
Ad blocker interference detected!
Wikia is a free-to-use site that makes money from advertising. We have a modified experience for viewers using ad blockers

Wikia is not accessible if you've made further modifications. Remove the custom ad blocker rule(s) and the page will load as expected.