Jessa Johansson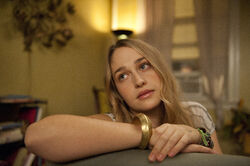 Jessa Johansson is one of the lead characters in HBO's Girls. She is portrayed by actress Jemima Kirke.
From the HBO Official Site:

"Jessa is beautiful, British, an occasional nanny who has travelled to as many different countries as she's had boyfriends. Back in New York for the first time in years, she moves in with her cousin Shoshanna, ready to shake up her friends' lives a little bit."