Jessa Johansson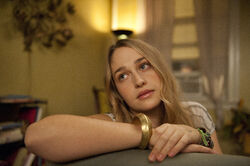 Jessa Johansson is one of the lead characters in HBO's Girls. She is portrayed by actress Jemima Kirke.
Much of Jessa's childhood is unknown. Her parent's split-up when she was little, and she has mentioned to having a strained relationship with her mother. Her father has since remarried. She has also mentioned having had an uncle who died of AIDS. Shoshanna is her younger American cousin, who's believed to be from her mother's side of the family. She met Hannah and Marnie while briefly attending Oberlin College, and left after developing a heroin habit. She has since spent the last several years traveling the world. At some point, Jessa contracted HPV, but told Hannah that "All Adventurous Women Do". When Jessa thinks that she is pregnant, she decides to go to New York in order to figure out what she should do.
From the HBO Official Site: 
"Jessa is beautiful, British, an occasional nanny who has travelled to as many different countries as she's had boyfriends. Back in New York for the first time in years, she moves in with her cousin Shoshanna, ready to shake up her friends' lives a little bit." Hello:) 
Season One
Edit
Jessa arrives to Shoshanna's apartment in the Pilot. She then later goes to a welcome party thrown by Hannah and Marnie. While Hannah is happy to see her, Marnie has not liked Jessa since she slept with one of her friend's boyfriends back in college. The situation is made worse when Jessa asks if Charlie (Marnie's boyfriend) is single, and letting Hannah drink Opium tea. When Marnie confronts Jessa about her unresponsible behavior, she reveals the real reason to why she came to New York. 
Continuing on from the pilot, Jessa has decided to end her pregnancy. She has Marnie make an appointment for her at an abortion clinic in Vagina Panic. While on her way to the clinic, she ends up stopping at a bar, where she meets a random guy. They proceed to go into the bathroom to have sex, where Jessa discovers that she has started her period.
Jessa get's her first job as a nanny in All Adventurous Women Do. She meets and has a connection with the father Jeff. Who later forgives her for briefly losing his kids in Hannah's Diary. She meets an ex-boyfriend in Hard Being Easy. They have sex in Shoshanna's apartment while Shoshanna was still there. Afterwards, Jessa tells Shoshanna that she's not ashamed over what happened.
In Welcome to Bushwick a.k.a. The Crackcident, Jessa receives a mysterious text while at a rave with Hannah, Marnie, and Shoshanna. The text turns out to be from Jeff. She ends up abandoning Shoshanna, who accidentally smoked crack, to hang out with him. After throwing a bottle of wine at a group of male partygoers, Jeff get's jumped and has to be taken to the hospital. He later admits his attraction to Jessa, but when she rejects him, he fires her.
Following her altercation with Jeff, Jessa goes to Hannah and Marnie's apartment in Weirdos Need Girlfriends Too. She ends up forming a bond with Marnie, who's depressed over ending her relationship with Charlie, and the two end up going out. While at a bar, they get picked by a wealthy older guy named Thomas-John. They end up at John's place, where Marnie and Jessa start making out with each other. When they spill a glass of wine on his carpet, John throws them out.
Jeff's wife, Katherine, visits Jessa in Leave Me Alone. She initailly wants Jessa to come work for her again now that she and Jeff are separated, but reliazes that it's not a good idea. She does however tell Jessa that the reason behind her behavior may be the fear of actually being an adult.
Jessa sends an email-blast out to Hannah, Marnie, and several other of her closest friends in She Did about a secret party she's throwing. When everyone shows up for the event, it's revealed to be a surprise wedding between Jessa and Thomas. During their vows, Jessa explains that she didn't like him at first, but that his stories of finance and travel made her fall in love with him.
Season Two
Edit
Jessa and Thomas-John return from their honeymoon and after weeks of living together, they realise the gravity of their rash decision. Thomas-John insists on a divorce and Jessa moves in with Hannah. Jessa and Hannah go to Jessa's fathers place but then Jessa abandons Hannah there, only returning in season 3.
Season Three
Edit
At the start of the season, Jessa is staying at a rehab facility as per her grandmother's request. However, she is uncooperative and obnoxious during group therapy and antagonizes other patients. The exception is a British patient named Jasper, with whom she talks quite often. The last straw for the facility becomes when Jessa is caught having sex with another female patient, resulting n her being kicked out. She calls Hannah, their first contact in months, and asks her to give her a ride.