Shoshanna Shapiro
Comments

9
68pages on
this wiki
Shoshanna Shapiro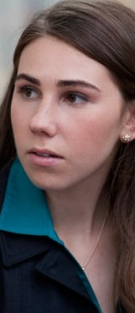 Shoshanna Shapiro is one of the protagonists of HBO's Girls. She is portrayed by actress Zosia Mamet.
From the HBO official site:

"Shoshanna is Jessa's younger, bubblier American cousin. A virgin with Sex and the City dreams and Brooklyn nightmares, her friends tend to dismiss her as a suburban innocent, but she consistently proves to be a surprising source of wisdom."