Shoshanna Shapiro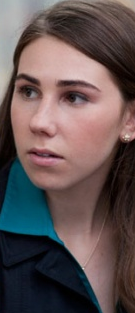 Shoshanna Shapiro is one of the protagonists of HBO's Girls. She is portrayed by actress Zosia Mamet.
From the HBO official site:

"Shoshanna is Jessa's younger, bubblier American cousin. A virgin with Sex and the City dreams and Brooklyn nightmares, her friends tend to dismiss her as a suburban innocent, but she consistently proves to be a surprising source of wisdom."
Shoshanna is the youngest member of the group, she's almost 21 in season one. Her parents, Melvin and Melody Shapiro (both are called "Mel"), are divorced.
Season One
Edit
Season Two
Edit
Season Three
Edit
In the third season, Shoshanna is on her final year of college and is enjoying a "year of freedom" where she varies between academic studies and fun.
In the third season finale, Shoshanna learns that she will not be graduating after all because she failed glaciology.